Cottonseed hull contains rich plant protein and a variety of minerals and amino acids, but the cotton oil cake contains gossypol that is toxic for the livestock and poultry. Using the cotton oil cake to feed livestock and poultry directly is harmful and bad for its growth and development. Therefore, it is needed to process after fermentation for livestock and poultry feed. Cottonseed hull must pass through fermentation process to make it as animal feed. (Related Post: How to Make Animal Feed Pellets >>)


Cottonseed Hull Makes Animal Feed
5TPH Cotton Cattle Feed Production Plant Built in Mali
Project Site: Mali
Capacity: 60THD Cottonseed Dehulling and 3~5 TPH Cattle Feed Pellet Manufacturing
Raw Materials: Cottonseed Hull, Straw, Wheat Bran, Cotton Cake
Final Product: Cattle Feed Pellets
Production Technology: Cottonseed Decorticating Line and Cattle Feed Production Line
Main Equipment: Disc Huller, Drum Screens, Fan, Screen, Screw Conveyor, Bucket Elevator, Pulse Dust Collector, Cyclone Dust Collector, De-ironing Separator, Hammer Mill, Silos, Mixing machine, Ring Die Feed Pellet Machine, Counterflow Cooler, etc..
The Complete Cotton Cattle Feed Production Plant mainly includes two sections, cottonseed dehulling and cattle feed production. The two cottonseed processing plants are closely collected. The cottonseed hull and cotton cake produced by cottonseed dehulling machine are transported to the animal feed pellet production line to mix with straw and wheat bran to make cattle feed pellets. (Read more: Cattle Feed Manufacturing Plant Cost >>)
Below are the installation of cottonseed dehulling machines and cotton cattle feed pellet production machines.
Cottonseed Hull Cattle Feed Pellet Mill Plant Onsite Commissioning
Complete Animal Feed Pellet Plant Turnkey Project Supplier - ABC Machinery
ABC Machinery provides one-stop and turnkey project service for complete animal feed pellet mill plant. If you are interested in building up your own animal feed pellet plant or desiring to start animal feed manufacturing business, but not sure which supplier should choose. Maybe, you can take a visit to the animal fee pellet plant projects we built in many countries, like Philippines, Uzbekstan, Lithuania, Nigeria, Tanzania, Russia, Fiji, Ghana, etc.. Any questions about the project cost and equipment parameters, please contact us directly!
Cattle Feed Pellets Production Process and Equipment
Process of Complete Cattle Feed Pellet Production Process
Raw Materials → Grinding→ Mixing→ Pelletizing→ Pellet Cooling→ Pellet Crushing → Screening & Grading → Pellet Packing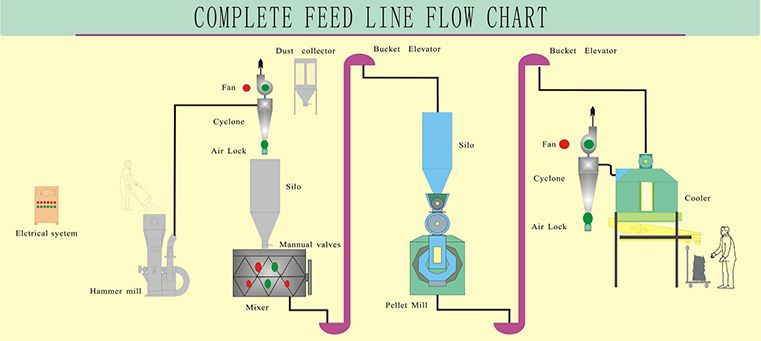 Cattle Feed Pellet Production Process and Equipment
Equipment of Complete Cattle Feed Pellet Production Plant
Feed Grinder→ Feed Mixer→ Feed Pellet Mill→ Counterflow Cooler→ Feed Pellets Crumble→Feed Pellets Grading Sieve → Automatic Weighing and Packing Machine
Cotton Seed Production and Cattle Feed Demands in Mali


Cotton Seed Production in Mali
| | | | | | |
| --- | --- | --- | --- | --- | --- |
| Market Year | 2015 | 2016 | 2017 | 2018 | 2019 |
| Production | 975 | 1240 | 1400 | 1270 | 1350 |
| Unit of Measure | 1000 480 lb. Bales | 1000 480 lb. Bales | 1000 480 lb. Bales | 1000 480 lb. Bales | 1000 480 lb. Bales |
| Growth Rate | -6.25 % | 27.18 % | 12.90 % | -9.29 % | 6.30 % |
Cotton is one of Mali's main exports and contributes significantly to the country's GROSS domestic product. In 1955, the Malian government began to actively promote cotton production, and in 2003, Mali became the largest cotton producer on the African continent.


Setup Cattle Feed Pellet Mill in Mali
Mali has a unique opportunity to develop its livestock industry with the rapid expansion of beef demand in some coastal areas of West Africa. And, the demand for high quality cattle feed is also increasing, which provides great opportunity to set up cattle feed pellet mill in Mali. The cattle feed pellet improves the utilization rate of some nutrients in the feed, reduces the infection of poisonous and harmful bacteria, increases the digestibility and conversion rate of the feed, and improves the sanitary condition of the cattle farm. Therefore, the demand for cattle feed pellets will continue to increase.