There are many kinds of pellet feed production machines and equipment . Cattle feed pellet mill is used to convert dry-grinding powder into small and medium-sized particles for animal consumption. This process makes the feed delicious and easy to digest, which is very beneficial for cattle. Here, ABC Machinery provides a complete guide on the production of animal feed pellets . We can provide compact solutions for animal feed pellet production lines as well as single animal feed pellet making machine. We have various types of animal feed processing machines that can suitable small, medium and large scale animal feed processing projects! If you have any questions, please contact us directly!

Cattle feed pellet machine supplier
Several biodegradable materials can be used to make this powder, such as grass, wheat, corn, soybeans, straw, nut shells, bagasse (leftover sugarcane material) etc. In addition, steam or molasses is used to incorporate moisture into the mix. This creates larger, compact particles known as pellets.
Pelleting has distinct advantages over mashed feed. Varying the ingredients and temperatures can improve the quality of the pellet feed and the manufacturer can control the nutritional value. This increases the overall profitability of your plant. It reduces food wastage.Not only is it preferred by cattle, it increases nutrient utilization. The pellets can be stored and transported with relative ease.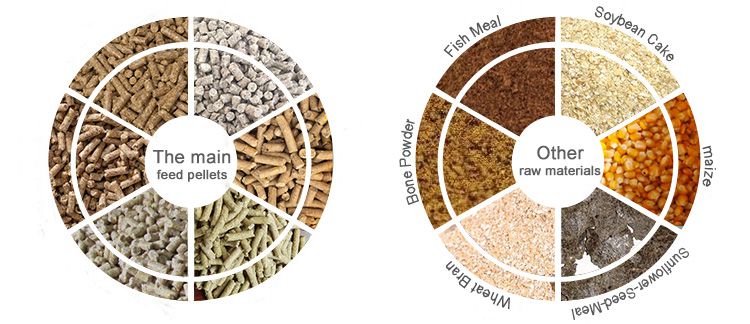 Production of various cattle feed pellets
Cattle Feed Pellet Mill Classification
Feed pellet mills are of two types- ring die and flat die. Flat die pellet mills are generally cheaper, but ring die pellet mills save energy. The machines come in different sizes depending on your needs. Most feed pellet mills use steam- this extends die life and increases production rate. Some cattle feed pellet mills come with incorporated mixers and grinders.
Large scale feed pellet mills use ring dies. The entire machinery can be set up like a production line. This used to produce large amounts of animal feed. A small scale pellet mill simply processes dry powder into pellets using a flat die, it does not grind and mix. This kind of pellet mill can produce anywhere between 80 to 1000 kilograms of pellets per hour.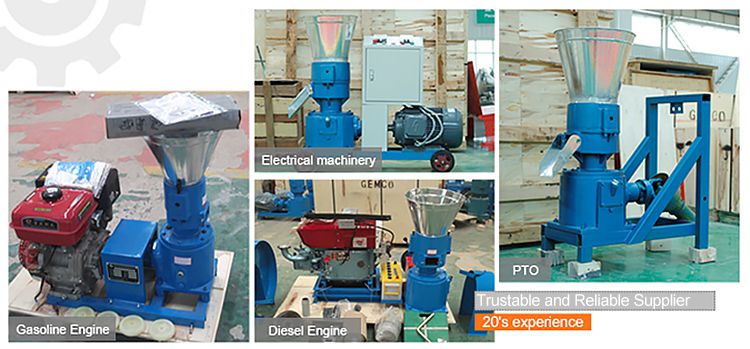 Flat Die Cattle Feed Pellet Mill for Sale
Electric machine : Movable machine with motor, creates no oily fumes or pollution, and low noise.

Diesel engine: Pellet mill with diesel engine, unlimited by electricity, can be worked at any place.

Gasoline line engine:Compact size makes it more portable than other pellet mills.

PTO: Use of connecting tractors
Buy Ring Die Cattle Feed pellet machine price
Stainless steel feeder, equipped with Danfoss inverter imported from Denmark, accurate feeding.

All stainless steel modulator device, modulato spindle and blade, beautiful and generous, corrosion resistance;Large open access port, easy cleaning and maintenance;Single or double layer configuration is optional.

Stainless steel feeding tube, stainless steel lining plate of granulating chamber, corrosion resistant.

Add pressure roller lubrication grease function without stopping the machine.

High strength SPB narrow type V belt drive, stable and reliable transmission, low noise, low maintenance cost.
Small animal feed pellet machine display--ABC Machinery
Featured with the unique advantages of simple structure, small area coverage, competitive price and low consumption, the poultry feed pellet mill is a good choice for small-scale industrial production and home use.If you are interested, please feel free to contact us for the most professional guidance and quotation.

How to make cattle feed pellets
While no special training is required to operate the mill, the operator must adhere to the information manual given with the machine and follow the safety instructions. To make cattle feed pellets, you must condition the material first. Convert the raw materials into powdered form, and create a mixture. You can use a separate grinder and mixer to do this. Once it is mixed, this raw material is fed into the cattle feed pellet mill where the molding process begins. The powder is subjected to a high temperature and pressure, along with steam, and is compressed into pellets. The steam gelatinizes the starch in the feed material. This processed mixture is then pressed into the die where it passes through the holes. The mixture is cut to the desired length as it is being extruded. Usually, an adjustable knife allows you to control the length of the pellets. These pellets are then put through a cooling process. Once the pellets have dried, they can be fed to the cattle. (You can view more detailed at livestock feed pellet processing technology .)

Cattle feed pellet production process
Cattle feed pellet factory for sale
If you want to build a feed pellet factory, we are also a good choice. The small feed pellet factory can process 600-1000kg/h animal feed pellets, while the medium feed pellet production line can produce 1-10TPH animal feed pellets. Since 2007, ABC Machinery Company has developed feed pellet mill agents in the Czech Republic, Japan, Poland, Russia, Turkey, USA, etc.; and been making feed pellet palnt designs for clients from many countries, including Belize (Latin America), Latvia, Kuwait, South Africa, Uganda, Uzbekistan, Zambia, and so on.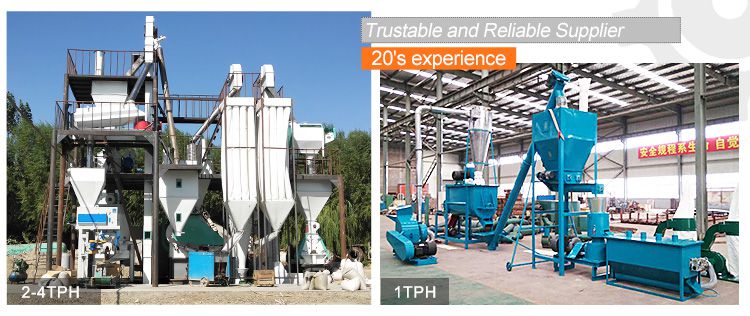 Small and medium cattle feed pelleting plant
Hot Selling small and Medium Size Feed Pellet Plant

| | | | | |
| --- | --- | --- | --- | --- |
| Yield | 1TPH | 1-2TPH | 2-3TPH | 2-4TPH |
| State | Kuwait | Uganda | Tanzania | Uzbekistan |
Why did you choose us?
Our machines are simple in structure, easy to operate and reasonable in design.

Pellet machine low noise, energy saving, high quality.

High quality with CE&ISO certifications for all homemade pellet mill plans.

You can customize your own pellet molds according to your raw materials and needs.

Professional business personnel to provide free online consulting services.

There are professional and technical personnel to guide the whole process, can be door-to-door guidance installation and debugging and training.
customer visiting
Anyang Best Complete Machinery Engineering Co., LTD. Has advanced machinery manufacturing equipment, strong development strength and perfect after-sales service.ABC products sell well at home and abroad, and are exported to more than 100 countries and regions in the world such as Europe.Is worthy of your trust developers? If you are interested in it, please contact us, you are also very welcome to visit. Below to share with you some of the customers visit photos.)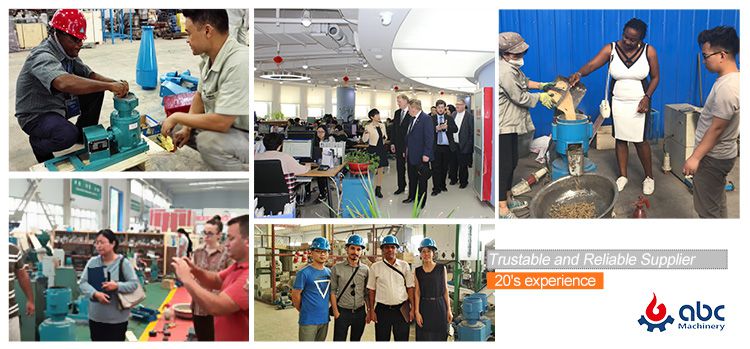 Animal Feed Pellet Machine Manufacturer
Pelletizing is the efficient way to feed your cattle regardless of the scale of your business. Major advancements have been made in the technology of pelletizing highly fibrous materials. The cattle feed pellet mill is a valuable investment for any cattle owner. (If you plan to build a feed pellet factory of your own, we can provide a full service to save your time and effort!If you need anything, please don't hesitate to contact us!)