As demand for dairy products and beef soars, cattle farming is becoming more industrialized. This corresponds to larger herd sizes, more complex feed formulations and utilization rates, and as a result, an increasing number of investors see great potential in the cattle feed pellet production business.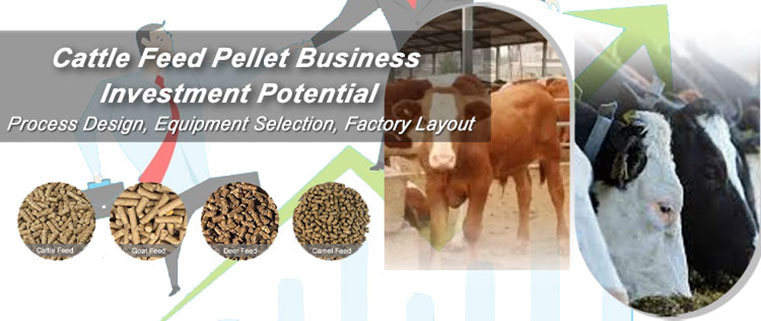 Cattle Feed Pellet Production Business Investment Potential
ABC Machinery has outstanding technology and experience in cattle feed pellet production. If you want to buy cattle feed pellet processing machine at factory price from reliable manufacturer or supplier and learn how to process and produce cattle feed pellets, you can contact us for free guidance in setting up your cattle feed pellet mill production project for your business, please don't hesitate to consult us!

How Much does it Cost to Setup A Cattle Feed Pellet Plant?
The number of pellet mills required to start a cattle feed pellet mill is highly dependent on the pellet line output. The equipment price for investing in a small cattle feed pellet mill business is about $10,000 (there are different plant design options for different production volumes, ABC Machinery supports customizing the cattle feed pellet mill to fit your requirements with us). Read more about cattle feed pellet manufacturing plant setup costs here >>
Photo Display: Cattle feed pellet processing plant project report
For those who want to learn more about the cattle feed pellet plant layout design and equipment selection, here are some commercial cattle feed pellet plant project reports for reference. Please feel free to contact us with any questions about the cattle feed pellet business, or ask us for the latest prices on cattle feed pellet mills!
As an experienced manufacturer of cattle feed pellet processing equipment, we have helped many customers start their cattle feed pellet manufacturing business. See more of our completed cattle feed pellet plant projects and poultry feed pellet processing plants.
Video: Installation & Testing Cattle Feed Pellet Production Line
Cattle Feed Pellet Mill Business Market Report in 2022
The global cattle inventory could reach nearly 1 billion head in 2022, according to preliminary estimates from the U.S. Department of Agriculture. The scale of cattle breeding in the world is expanding, and large feedlots can raise 300,000-500,000 head of cattle. Therefore, opening a cattle feed pellet plant is known as a popular business project with high returns in recent years, especially in large animal breeding countries, including India, Brazil and China, Germany, the United States, etc. The global cattle feed market is expected to reach a market valuation of $125.8 billion by 2032, reaching a CAGR of 4% during the forecast period.


Global Market Trend on Cattle Feed Pellet Mill Business
Market Analysis
The market for pellet feed is vast and it is profitable for large-scale farmers to make their pellet feed. With the increasing number of cattle being raised, the market for cattle feed pellet mills has a bright future. Due to higher returns on meat production, farmers will be encouraged to use compound feeds to increase the growth rate of their livestock. As a result, more investments are expected in the cattle feed industry in the near future.
There is a farm with years of experience that concluded that: according to the calculation of cattle's weight, the amount of concentrate feed intake accounted for 0.7-1.1% of the weight of cattle, meaning: 100 kg of cattle has to intake 0.7 kg of concentrate feed per day, the highest do not exceed 1.1 kg. 500 kg of cattle have to intake 5 kg of mixed concentrate feed per day, and 800 kg of cattle need about 8 kg of concentrate feed per day. It can be roughly estimated that the daily intake of concentrate feed for cattle is about 8.5 kg. After 10 months (300 days) of breeding, cattle can eat 2550 kg of concentrate feed, and pelleted feed can be used as concentrate feed.
| | Calves | Fattening cattle |
| --- | --- | --- |
| | (181.44-362.87kg) | (362.87-544.31kg) |
| Feeding once a day | 45.72-55.88 | 55.88-66.04 |
| Feeding twice a day | 22.86-27.94 | 27.94-33.02 |
| Concentrate free-feeding | 7.62-10.16 | 10.16-15.24 |
| Roughage ad libitum | 22.86-25.4 | 25.4-27.94 |
User Analysis
Generally speaking, the cattle feed marketing systems can be said to comprise of following stakeholders: the manufacturer, the wholesaler, the retailer, and the end user. The manufacturer is the person or company that makes cattle feed; the wholesaler is the middleman in the distribution channel who buys large quantities of animal feed from the manufacturer and resells it to the retailer; the retailer buys feed from the wholesaler and sells it to the end-users; and the end-user is generally the cattleman or cattle farm. The users of cattle feed pellet mills are manufacturers or end-users of large-scale farms.(Related Article: The formula for Making Cattle Feed Pellet)
Competitive Analysis
What is the appeal of using cattle feed pellets?
Firstly, the high hardness, surface finish, and internal maturation of pellet feed can improve the digestion and absorption efficiency of nutrition.
Secondly, the pellet formation process can make the trypsin resistance factor in cereals and legumes denatured to reduce the adverse effects on digestion, can kill various parasitic matters and other pathogenic microorganisms, and then reduce various worm and digestive system diseases. Then, the moisture content of the pellet feed is the moisture content of the material before pelleting, which is more conducive to storage.
Finally, the pellet feed can avoid the cattle from picking up food and ensure the cattle can take in comprehensive nutrition.
Then what is the appeal of having your own cattle feed pellet mill?
Firstly, users can adjust the ratio of ingredients in the feed according to the specific situation, so that the feed can be more in line with the cattle;
secondly, manufacturing pellet feed by themselves can reduce the intermediate link and lower the feed cost.
Finally, the excess pellet feed can be resold to obtain economic benefits.