Animal Pellet feed first appeared in Europe, and in recent years it has occupied most of the feed market in the United States, Japan, Germany and other countries. In China, the world average level of pellet feed use is about 60%. Nowadays, pellet feed has been widely used in the feeding of piglets, pigs, chickens, cattle, sheep, fish and other livestock. It can be seen that the feed pellets produced by the animal feed pellet mill have a broad potential market and it is a wise move to invest in related fields.>>>Related Post: Animal Feed Pellet Production Processing Technology>>>

Animal Cattle Feed Pellet Investment Potential
ABC Machinery is one professional manufacturer and supplier of factory price cattle feed pellet making machines and best service from process design to after sale service. Welcome to contact us for more information about feed pellet making machines for sale!

Why Are So Many Farmers Feeding Their Animals with Pellet Feed?


Powdered Feed VS. Pellet Feed
Generally, cattle feed consists of powdered feed and pelleted feed. As for powdered feed, it has two main feeding methods.
Dry feeding. In this method, if the powder feed is fine, it will affect the feed intake of the cattle to a certain extent; on the contrary, if the powder is coarse, it may affect the utilization rate of the feed.
Wet feeding. That is, mixing feed and water together, which is not suitable for scientific feeding due to reduced feed intake.
Compared with powdered feed, pelleted feed has unparalleled advantages in cattle feeding. So an increasing number of breeders tend to choose pellet feed.
It is Obvious ​to See Advantages of Cattle Feed Pellet Processing
Feed pellets have a balanced nutritional ratio, your animals are not picky eaters.
Feed pellets are easy to transport and store, you can save labor and effort.
By changing different grinding disc sizes and using one feed pellet mill, you can make suitable feed for your animals at different growth periods.
For feed pellet mill holders, how do you get high-quality feed rations for your animals? Have a look at caattle feed pellet mill and set up a feed pellet production line plants!
Animal Feed Pellet Production Process for Livestock and Poultry
animal feed production machine can process various raw materials for feed production of rabbits, ducks, cattle, chickens, sheep, pigs and other animals. The whole production line consists of hammer mill, mixer, cattle feed pellet machine, cooler, crusher and grade screening machine.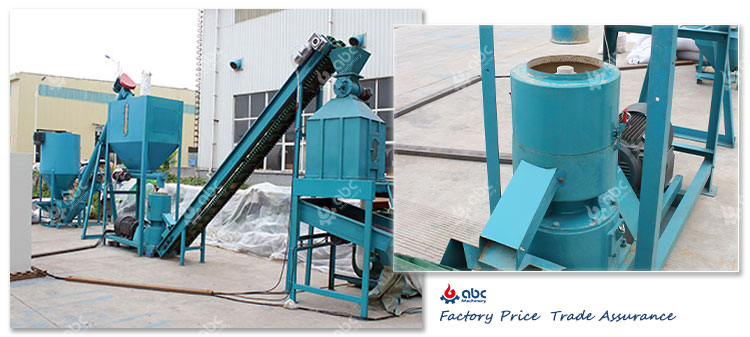 Small-scale Feed Pellet Production Line for Cattle and Chicken
| Type | Power | Output | Package size |
| --- | --- | --- | --- |
| ZLSP 200B | Three phase | 200-300kg/h | 1050*480*990mm |
| ZLSP 260B | Three phase | 400-600kg/h | 1240*540*1070mm |
| ZLSP 300B | Three phase | 600-800kg/h | 1300*560*1220mm |

For more Parameters of animal feed pellet mill and price list,please click Small Feed Pellet Making Machine>>>

In conclusion, pellet feed is the best choice for cattle or dairy cattle, pigs, horses, sheep and other livestock breeding industries. If you are interested and want to invest in this field, we are willing to provide you with professional advice and guidance. As a leading supplier of professional feed pelletizing equipment suupplier, we provide high-quality pelletizers and considerate services to meet the needs of different customers.
Globle Cattle Feed Pellets Investment Potential Analysis
In recent years, the high animal feed pellet price makes the dairy industry in some countries rely heavily on imports. In fact, the dairy industry has huge potential due to the huge demand for dairy products such as milk and beef. The biggest opportunity for local farmers and dairy investors is animal feed processing.
Australia, where the development of grassland and livestock industry is the first in the world, calls feed pellets "green gold" and takes the deep processing of forage feed as the top priority in the development of its livestock industry.

The United States, New Zealand, France and other developed countries not only attach importance to technical innovation, but also give great support to the application and promotion, basic research, applied research, etc. There are also corresponding policies to encourage scientific research projects.

Although South Korea and Japan rely on imports for most of the forage feed pellets due to the constraints of geographical environment and economic form, they have their own leading technologies in the field of deep processing of forage products.

In West and East Africa, poultry houses (broiler and egg production), slaughterhouses and animal feed mills are becoming hotspots for investment, with the production of poultry feed, cattle feed and aquafeed also increasing in recent years, according to data.
If you want to know how to make high-efficiency and low-cost cattle feed pellets making machines, please feel free to contact us!