Best Cattle and Cow Feed Pellet Making Machinery Process
Still spending a lot of money on cattle feed pellets when you own a farm? As long as they are available in the cattle feed line, I do it all myself! Cattle feed pellets are compound animal feeds made from various raw materials and designed for different kinds of cattle. Raw materials determine how a manufacturer makes cattle feed pellets and add vitamins, cobalt, manganese, selenium, iodine, etc. to cattle feed pellets formulation to boost their nutrition. Contact us for more information about formulation and advantages of cattle feed pellets!

Guide on Starting a Cattle Feed Pellet Manufacturing Process & Technologies
To successfully produce your own best cattle feed pellets , you should know a few things when buying a high-quality feed pellet mill online for your animal feed pellet mill business. Here are 5 tips for making profitable cattle feed pellets.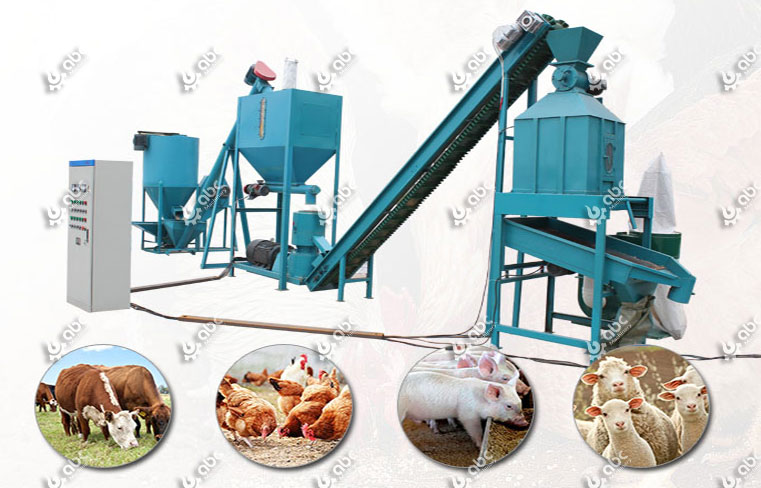 Animal Feed Pellet Production Line Process
The first step in the production of cattle feed pellets is to crush the raw materials, the purpose of which is to grind the materials such as corn, soybean meal, wheat, and so on, into fine pellets that can be easily mixed with a variety of feed ingredients.A hammer mill is used in the process to break down the ingredients into finer pellets.
Next, mix the cattle feed pellets and the mixer blends milled ingredients to make cattle feed pellets until a well-blended homogeneous mixture.Then add minerals that you ought to. Continue blending until the ingredients are evenly distributed.
After the ingredients for cattle feed are thoroughly mixed, the mixture is run through the feed pellet mill so that the mashed feed is compressed into a moist, soft pellet feed.
ABC Machinery offers both flat die and ring die types. Both types of cattle feed pellet mills can be used alone or in combination with other related auxiliary equipment in feed pellet manufacturing plants. When you plan to start an animal feed pellet production business, you should pay more attention to the choice of feed pellet manufacturing machine as well as to the process and technology of feed pellet production. If you have no idea where to buy an animal feed pellet mill, please feel free to contact us!

The produced cattle feed pellets would be dried. The pelletizing stage provides pellets with 17% moisture. The pellets are dried to 11- 12% moisture before leaving the cattle feed pellets production line. The pellet cooler extrudes the pellets without heat. Finalizing how to make cattle feed pellets involves screening and grading after drying. The cattle feed pellets are taken out of the manufacturing plant and weighed and packaged. You can then use them for personal or commercial purposes.
[ Market Analysis ] Start a Cattle Feed Pellet Manufacturing Business Cost

Cattle Feed Pellet Global Market by Geography
People are becoming more aware of the many chances available to spend their money in a profitable business in the process of establishing an animal feed manufacturing company or beginning a livestock feed manufacturing business. The increasing demand for beef and dairy products in the modern economy is driving growth in the worldwide market for cattle feed. People feel that it is necessary to take care of the cattle or cows. Therefore, the following is anticipated that there would be some shifts in the worldwide market for cattle feed.
At the same time,the companies that make and sell cattle feed are trying to keep up with demand and set a new standard for the feed industry.Any country can find it hard to feed a lot of cattle.But some things can help the new markets that are coming up.Soon,the global market for feed for cattle is likely to grow.This is because of all the changes happening all over the world.Farmers have many problems to deal with when caring for cattle. They have to order many supplies and provide each cattle with the same amount of food.The older model will be replaced by the global cattle feed market.This will ensure that global demand is met and that farmers can keep their cattle healthy.
Video of Cattle Feed Pellets Manufacturing Process for Home Use
Buy the best priced animal feed pellet making machinery for livestock and poultry to start feed pellet production processing business from ABC Machinery, the reliable and professional manufacturer or supplier in Philippines,Uzbekistan,Lithuania,Nigeria,Tanzania etc., at low cost. Contact us for more information about wood pellet making machine for sale.