Livestock, cattle, sheep, cow, pig, camel, deer, rabbit, Alpaca, etc. is raised by people for meat, eggs, milk, leather, fur, and wool. Many of these livestock animals can be fed with feed pellets, as feed pellets have higher nutrition density, more comprehensive nutrition, higher economic benefits (animals can digest, absorb and conserve better) and are easier to store and transport than traditional roughage (coarse fodder).


Livestock Feed Pellets Processing for Farm or Commercial Uses
Now, more and more farmers are aware of the benefits of animal feed pellets and tend to make their own livestock feed pellets or buy feed pellets from the market. And, setting up a feed pellet production plant to produce high quality livestock feed pellets has been popular project in breeding industry in many countries, Brazil, United States, China, European Union, Argentina, Australia, Russia, Mexico, Uruguary, Egypt, Ukraine, etc.. Therefore, starting livestock feed pellet manufacturing business has been a great choice for many investors or farmers to gain long-term profits.
Hot Sale Livestock Feed Pellet Production Line
Above is the hot sale livestock feed pellet mill plant designed by ABC Machinery. It has been proven highly efficient by the market. Many customers has choose them to start their livestock feed pellet making business and the investment capital is relatively small compared to large scale ones. (Read more: Poultry Feed Business in Nigeria >>)
ABC Machinery has been committed to providing customers with a comprehensive plan for feed pellet production. We provide full consulting services to help our clients realize their vision of rapid development. Our services include: project evaluation, technical consultation, plant design, equipment manufacturing, installation and commissioning, worker training and other after-sales services.
If you have plan to make feed pellets for your cattle/cow, sheep/goat, pig and others, just contact us directly! Our customized plan for feed pellet production definitely can help you reduce the investment cost and ensure the production efficiency!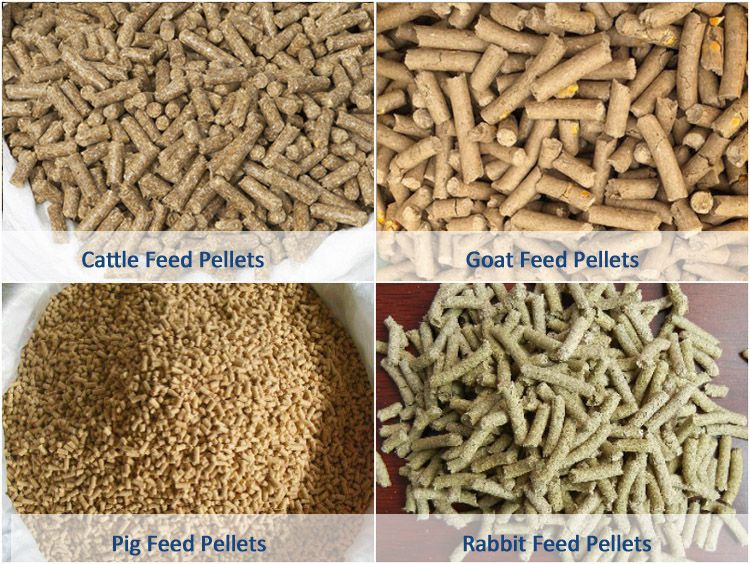 Main Livestock Feed Pellets Maded by Animal Feed Pellet Mill
How to Calculate the Feed Pellet Production Capacity for Your Livestock?
In most cases, people will have questions on how to know the production capacity of your feed processing plant or how to calculate the amount of feed your animal is needed? Below is a reference. For making pure forage feed pellets of complete feed pellets, you need to calculate by yourself, or contact us for professional livesock feed pellet making consultation!
Animal/Livestock Feed Pellets Production Calculation
| Livestock/Animal | Amount of Feed Pellets Required | Quantity | Calculation Formula |
| --- | --- | --- | --- |
| Cattle/Cow | 0.1kg/d | X | 0.1*X |
| Sheep/Goat | 0.1kg/d | X | 0.1*X |
| Pig | 0.25kg/d | X | 0.25*X |
| Poultry/Chicken | 0.15kg/d | X | 0.15*X |
Livestock Feed Pellets Processing Technology
The following processing procedures are complete technical process for livestock feed pellet production, but not all procedures are required in practical production. The exact feed pellet manufacturing process are strictly designed by combining requirements of feed pellets, investment cost, capacity and more. (Latest Project: Low Cost to Make Cottonseed Hull into Cattle Feed Pellets in Mali >>)

Livestock Feed Pellet Production Process
Establishing a livestock feed pellet production line for commercial uses requires a series of processes and a series of feed processing equipment. And the design of the feed manufacturing process will decide the feed pellet machine and other auxiliary equipment. When deciding to build your own feed pellet mill plant for cattle, goat, pig and more, just remember choosing a reliable manufacturer of feed pellet machines can help you to save money and time. For detailed machine price and parameters, please contact us directly!
Raw Material Reception and Storage
Livestock feed raw materials vary, they include: long material like crop straw, grains like wheat, maize, and others like oil cake/meal, additives, etc. different raw materials have different storage methods. For example, in complete feed pellet line of large capacity, storage silo is necessary for storing maize, wheat, and other grains.


Raw Materials to Make Livestock Feed Pellets
The impurities in feed raw materials not only affect the quality of feed pellet products, but also directly relate to the feed processing machines and personal safety. In serious case, the whole equipment can be destroyed, which impacts the smooth progress of the feed production, so the impurities must be removed in time. The cleaning equipment of the feed pellet production line is based on screening and magnetic separation equipment. Screening equipment is used to remove large and long impurities such as stones, mud blocks and sacks. The magnetic separator is mainly used to remove iron impurities.
Feed Raw Material Crushing
The technological process of feed crushing is determined according to the required fineness and the variety of feed. According to the times of raw material crushing, it can be divided into one stage crushing process, circulation crushing process or two stage crushing process. According to the combination form of batching, it can be divided into first batching, then crushing and first crushing then batching technology. Hammer mill is the most commonly used machine in this process.
Feed Material Batching/Proportioning Process
At present, the commonly used batching processes include manual batching, volumetric batching, one warehouse one scale batching, etc. Manual batching is mostly utilized in small feed pellet plant and medium scale feed pellet factory (capacity 1-15T/h). In this batching technology, all feed materials are weighed manually by workers and poured into the mixing machine. As the whole process like measuring and proportioning is all operated by manpower, it needs less equipment investment and low production cost, and has flexible and precise measuring.
There are 2 feed mixing methods: batch mixing and continuous mixing. Batch mixing is to blend all the components together according to the proportion of the formula, and mix them in the periodically running "batch mixer". This mixing method is convenient for replacing feed formula, and the intermixing between each batch is less, so batch mixing is commonly applied at present. However, as the start and stop operation is complex, the automatic program control is mostly used.
The continuous mixing process is a continuous measurement of all kinds of feed components at the same time respectively and proportionately matched to a stream containing various feed components. When the stream enters a continuous mixer, it is mixed continuously into a uniform flow of material. The advantage of this process is that it can be carried out continuously, easily with comminution and granulation, so the production does not need to operate frequently. but when changing feed formula, the adjustment of the flow is more troublesome and the material residue in the continuous conveying and continuous mixing equipment is more, so the intermixing problem between the two batches of feed is more serious.
There is 600-1000kg/h small feed pellet plant that uses flat die feed pellet machine and 1-15T/h medium feed pellet line that uses ring die feed pellet mill.
| Feed Pellet Machine | How to Use it |
| --- | --- |
| Flat Die Feed Pellet Mill | The mixed feed material is uniformly distributed into the feed pellet machne, and the rotating roller and flat die will press the material, and the densified material go though flat die holes to form cylindrical granules, finally desirable size (both length and diameter) feed pellets are cut by the cutting blades and discharged from the feed pellet machine outlet. |
| Ring Die Feed Pellet Mill | In medium to large scale feed processing factory, feed material conditioning (tempering) is necessary, so ring die feed pellet mill is usually equipped with a conditioner on the top. The conditioning result directly influences feed pellets quality. The purpose of conditioning is to add water to the feed powder to let it has certain moisture content. After conditioning, the feed material is distributed evenly between the roller and ring die, so the feed pellets are pressed out through ring die holes, cut and discharged. |

As in the process of pelletizing, the feed is input high temperature and humidity steam, and the squezzing process generates great heat, so the feed pellets moisture content can reach 16-18%, and temperature reach 75 ℃-85 ℃. Under this condition, the feed pellets are easily deformed and broken, and would bond and mildew in storage, so it is necessary to use feed pellet cooler to reduce their moisture to below 14% and decrease the temperature to below 8 degrees Celsius.
For making young livestock feed pellets of small size, crumbling is also necessary. In order to save electricity, increase the output and improve the quality, the feed material is often made into a certain size pellets in order to save electricity, and then broken into required smaller pellet size. But it is not a must for all feed pellets manuracturers.
In small feed pellet plant, this process is realized by the feed pellet cooler. But in larger capacity medium feed pellet line, if the crumbler is used, the pellet sieving machine is also needed, since it can separate the powder from eligible feed pellets, so that uniform feed pellets can be deliver to later packaging process, and the powder or uneligible feed pellets can go back for reproduction.
Produced feed pellets are weighted and packaged for sale on the market.
If you want to start your own livestock feed pellet plant, or build a livestock feed pellet factory, please feel free to contact us for most professional guidance!
Livestock Feed Pellet Mill Plant Project Built by ABC Machinery
Livestock feed pellets processing technology & equipment – buy high quality livestock feed pellet machine for feed pellet making: HOT sale livestock feed pellet processing equipment offered by animal feed pellet machine manufacturer or supplier, guide on process of livestock feed pellet production and how to start livestock feed pellet manufacturing business with limited cost in Tanzania, Egypt, Morocco, Ghana, South Korea, etc.
Classification of Livestock Feed Pellets
Generally livestock feed pellets have 4 kinds: pure forage (grass) feed pellets, complete diet feed pellets, concentrated feed pellets and premix feed pellets.
Pure forage (grass) feed pellet
is a feed pellet that only makes from grass, hay, grain straw, stalk, alfalfa, etc. It is the easily making feed pellets for livestock farm.
Complete feed pellet
is composed of four parts: protein feed (such as fish meal, bean and its oil cake/meal, etc.), energy feed (such as corn, wheat bran, etc.), coarse feed (also known as roughage, is composed of corn stalk, wheat straw, pasture, vinasse, etc.) and additives (like vitamins, microelements, salt, minaral feed, bone powder, etc.). By feeding livestock animals with complete feed pellets, you do not need to feed them other forage water. That's why it is called "complete".
Concentrated feed pellet
is composed of energy feed, protein feed, mineral feed and some feed additives, and is mainly suitable for feeding herbivores such as cattle, sheep and rabbits. Concentrate feed pellet is to supplement herbivorous animals which are based on coarse feed, green fodder and silage, so it is also called concentrate supplement feed, or mixed concentrate feed. This kind of feed has incomplete nutrition, so it is only a portion of animal feed to supplement the nutrition that livestock lacks by only eating forage grass or silage feed pellets.
Premix feed pellet
, whose full name is feed additive premix, refers to the feed pellets that are mainly composed of feed additives. There are mainly 3 kinds of feed additives: nutritive additives (including trace elements, vitamins, amino acids), drug additives (mainly for preventing disease and promoting length), and general additives (such as various kinds, such as mildew proof and incense enhancer, etc.). It is only produced by feed pellet manufacturing factories. Besides, premix feed pellet is only added 1%-6% in livestock daily feed according to animal species and growth stage.
My storehouse is full of pasture, but it is still not enough for feeding my cattle and sheep through the whole winter; while processing the pasture, it is full of dust. How can I deal with this problem?
Make your pasture/hay/herbage into pellets. Hay can spontaneously combust when stored with too high of a moisture content. It also takes up a lot of space. Pellets are safe from combustion and are more compact. You don't need a whole loft or shed to store them.
Why my cattle/sheep grow so slow? I have fed them so much fresh hay?
Even fresh hay is only called roughage forage (coarse fodder). Roughage includes pasture, crop straw, vinasse, and so on. If cattle/sheep only eat roughage, it will cause nutrition imbanlance and slow growth. If you want to improve feeding effect, and make animals grow faster, make some concentrated feed pellets for them!
It is so tired to deal with the fodder left after my livestock have eaten, and the fodder powder is also bought with money, I don't want to waste it, what I can do?
If you make all your fodder raw materials into feed pellets, your livestock is not able to be picky; this can reduce feed wastage the largest extent.