From March 14th to 28th, 2018, ABC Machinery General Manager and Sales Manager paid a visit to Nigeria. They mainly visited Abuja, Asaba, lbadan, lseyin, Enugu and Lagos. The aim of this visit was to have business discussion with our clients, investigate local market, and also promote our ABC Machinery brand. From the visit, we saw great market potential for clients to set up animal feed and poultry feed making plant in Nigeria.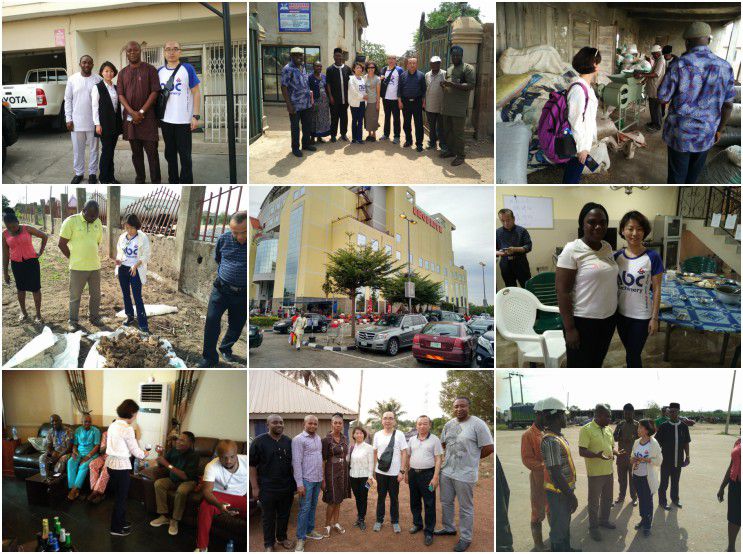 Nigeria Agriculture and poultry industry analysis
Nigeria is often referred to as the "Giant of Africa" due to its huge population and economy, Nigeria being one of the most populous countries in the world. Thus, it is quite understandable that food and, therefore agriculture, has an important role in the country's development and its inhabitants. It used to be that agriculture was the principal foreign exchange earner of its country. This means that the country was self-sufficient when it came to this, for a lack of a better word, field. Yet, sadly, as its population became larger, the country's agriculture has failed to keep up the pace. And agriculture was just the starting point, this affecting noticeably also the animal and poultry, especially their food.
Considering that poultry feed is food for farm poultry and poultry feed mostly consists of grain, agriculture certainly plays an important role into this industry.

Poor quality feeds lead to a slow growth in poultry, therefore also in the production of other related goods such as eggs. Not many feed manufacturers keep their standards when it comes to feed production, hence it led to huge losses. One of the best ways to sustain quality in addition to cutting the costs is to make the poultry feeds on the farm. The materials needed are available and low-priced, especially after the harvesting season. Due to some regulations, the standard quantity of feed of some major feed companies has been reduced, yet the cost of feed did not decrease as it should have.
The animal poultry feed making industry in Nigeria is quite overshadowed by a small number of Europe or American based feed industries. Sufficient to say, the total supply of locally produced feed is not enough to cover the demands. And although the quality of the imported feed is quite good, what puts them out of reach for most farmers is the cost.

Great market potential for animal and poultry feed making in Nigeria
To reduce the feed cost, more and more native poultry feed companies have emerged. So, feed making plant in Nigeria has become an important market, many small poultry companies depending on these native feed enterprises. These are seen in a more trustworthy light due to the better availability of materials and increased access by the poultry farmers.
Consequently, the potential of setting up animal feed and poultry feed making plant in Nigeria, has grown over the years, being encouraged by both several government regulations and individuals. Many approaches have been taken into consideration and already embraced, such as price policies, subsidies, and production credit. Looking at the big picture, right now, the business opportunities in Nigeria seem to be more and more profitable. Thus, many startups and small companies are appearing almost on a daily basis. Many entrepreneurs are taking advantage of this business opportunity and it seems that the profits are making them stay in the game and invest even more. Everyone wants to provide their customers with healthy and good quality animal feed which in turn generates the needed profits back to them. The livestock farming is attracting many investors which also mean that the indigenous feed production is on the rise. At the moment, the animal and poultry feed making business is enjoying a low competition market being that people are more interested in farming rather in the latter.
So, it seems that animal feed production in Nigeria is the next big thing and it is definitely worth your while to look into this animal feed and poultry feed making plant business.