Livestock, poultry and aquaculture industries are important agricultural economies. The establishment of a complete animal feed processing plant not only supports farmers to increase their income, but also helps to improve their health and even provides employment opportunities. In addition, the world economy is slowly starting to recover and investing in the feed processing industry is becoming a low cost, high return project. Based on years of experience in animal feed pellet mill production and customer feedback, we are happy to share with you some information about animal feed plant construction report, business plan and plant design.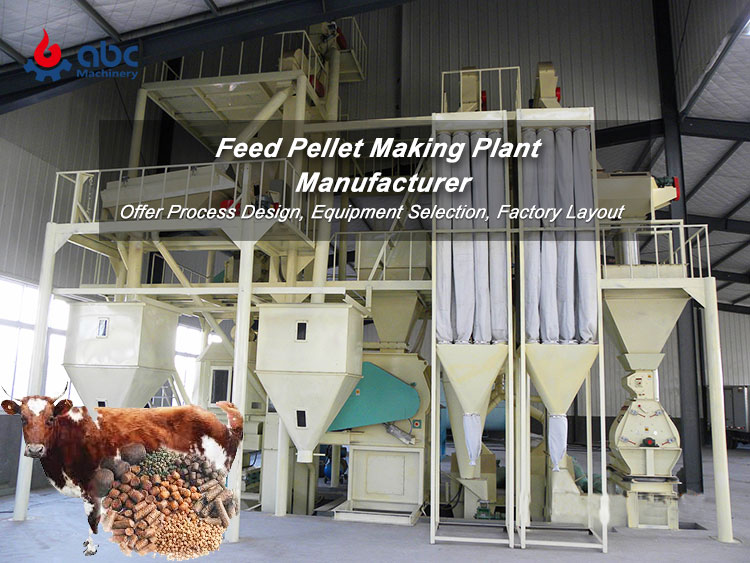 Build Animal Feed Pellet Mill Plant for Commercial Purpose
ABC Machinery is one professional manufacturer and supplier of factory price animal feed pellet making equipment and best service from process design to after sale service. Welcome to contact us for more information about industrial animal feed pellet making machines for commercial purpose. (Read more: Large-scale feed pellet plant)

Animal Feed Pellet Mill Business Project Report Design
In order to make an aniaml feed production business project report design successfully and start feed pellet production factory for livestock, poultry and aquaculture with low cost, you should do the following jobs.(Read more: Animal Feed Pellet Processing Plant Cost >>
Find Good Location
Choosing the right location for your business is a major decision that needs careful consideration. If you have your own animal farm, locating your feed pellet processing plant between the feed collection site and the farm will save on the cost of transporting raw materials and finished feed products.
Get Cost-effective and Reliable Equipment
The choice of feed pellet mill is the most important thing to start a feed pellet production plant. However, it is not so easy to buy the desired equipment. 1. View the real information of the supplier through the internet 2. It is better for the user to see the equipment in person at the manufacturer if he has time 3. Check the formal business license of the manufacturer. Use the above three methods to ensure the reliability of the feed pellet production equipment manufacturer.
Establish the Feed Pellet Manufacturing Plant
When you build a factory, you need to find some specialized workers to set up the necessary infrastructure and install the processing machinery. In most cases, animal feed processing equipment suppliers or manufacturers will have engineers on hand to help you design plant layouts and install and commission equipment.
Marketing Strategy Planning
A complete and prospective marketing plan can help you get more orders and build up your own brand. You can also suggest customers to help you advertise your animal feed pellets.
Professional and Reliable Feed Pellet Equipment Manufacturer
High-quality Feed Pellet Production Line from ABC Machinery
ABC Machinery chooses single machine combinations with superior performance.The picture below is a feed pellet production line consisting of crusher, elevator, mixer and pellet feed machine. The pellet making process is automatically warmed up→ paste→ cooked → pelleted in one time, the coarseness can be adjusted within 1.8mm-30mm according to the customer's needs, the surface of the pellet is smooth, the hardness is moderate, and it is easy to seal and store.

Animal Feed Production Line Process Flow Chart
Buy the best priced wood pellet making machine for sale to start feed pellet production business from ABC Machinery, the reliable and professional manufacturer or supplier in Philippines, Uzbekistan, Lithuania, Nigeria, Tanzania, etc., at low cost. Contact us for more information about animal feed pellet making machine for sale.

Hot Sale Animal Feed Pellet Making Machines at Factory Price
SBPM Series Ring Die Pellet Mill is applicable to feed factory, breeding factory, fertilizer factory, herbal medicine, chemical industry, etc. It is suitable for pressing pellets and can be used with various powder materials.
Product scope:
Raising pigs, rabbits, sheep, chickens, ducks, geese, pigeons, cattle, fish, etc.

Producing organic fertilizer

Producing herbicide

Producing straw pellets

Producing wood chips pellets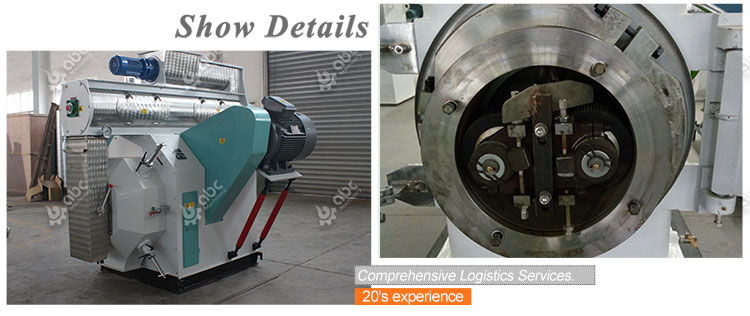 Industrial Large-scale Ring Die Animal Feed Pellet Mill for Sale
The final pellets of our ring die pellet mill are uniform in composition, neat in shape, smooth in surface, changeable in diameter between 1.5-6mm, adjustable in length between 5-20mm, and dense for storage and transportation, suitable for various breeding animals in different growth periods.
Animal Feed Pellet Plant Working Video
View the ring die feed pelleting video below to see how the animal feed pellet making line works! Send us an inquiry if you are interested in this machinery or want to know more details such as the lated prices and the cost of establishing a feed pellet plant.