Feed mixing is to assure that an animal receives all of its formulated nutrient allowances every day. A quality mixer ensures optimum feed mixes, easier distribution and many other benefits.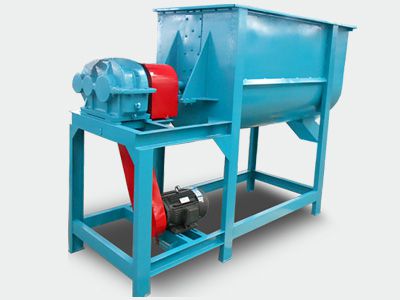 Why do you need feed mixer in your

small feed pellet plant

?


The feed mixer is to ensure that the poultry and livestock can obtain all the necessary nutrients in every meal, in case aninals only eat a part of feed ingredients. Therefore, feed mixer ensures uniform distribution of each component in the bulk material feed, especially those "active ingredients" which are added a very small amount but has great influence on animal growth and are required to be evenly distributed, such as vitamins, microelements, medicaments and other microconstituents, etc.

The feed mixing is a process that a variety of feed raw materials after measured, are blended under external force to be evenly distributed. In animal feed production, feed mixer working conditions not only determines the quality of the feed product, but also determines the production capacity of the whole feed production plant. So feed mixer is called the heart of a feed mill plant.
Horizontal Feed Mixer
Horizontal feed mixer is an efficient and versatile blending machine for mixing dry granules & powders at the same time. It is well suited for the preprocessing of feed mixture for making livestock, poultry and fish feed pellets.



| Model | Power (kw) | Capacity (kg/run) | Packaging Size (mm) |
| --- | --- | --- | --- |
| 9HWP500 | 7.5 | 500 | 2974x910x1400 |
| 9HWP1000 | 11 | 1000 | 3480x1260x1800 |
Vertical Feed Mixer
It only needs a very small space to finish the crushing and mixing in one machine. It can be used to crush all kinds of cereal, grain, like corn, wheat, bean, and others to powder that can make animal feed or for other processes.

| Model | Power (kw) | Capacity (kg/run) | Packaging Size (mm) | Weight (kg) |
| --- | --- | --- | --- | --- |
| 9LT-500 | 2.2 | 500 | 190*600*1100 | 150 (without motor) |
| 9LT-1000 | 3 | 1000 | 2309*836*1200 | 185 (without motor) |