Nowadays, as an increasing number of start-up companies join the animal feed manufacturing industry, chicken feed pellet mills occupy a place in the feed pellet production market with their obvious advantages of small size, low cost, low investment and high efficiency.

More and more breeders or farmers are buying chicken feed manufacturing machines for their own use, while reducing the cost of raising chickens. Especially in South Africa, which is known to be a large agricultural country with a large population and a well-developed livestock industry, feed processing for poultry or livestock is a lucrative business. Welcome to contact us for more information about chicken feed pellet making machines for sale! (Related article: China Chicken Feed Pellet Mill for Sale>>)

How to Make Your Own Chicken Feed or Choose Right Chicken Feed Mill?
If you are interested in making your own chicken feed pellet, or starting your chicken feed processing business to make money, it is necessary for you to understand the selection of chicken feed ingredients, chicken feed pellet manufacturing process and required equipment.
1. Raw Material Selection for Animal Feed Pellet Making
When making chicken feed pellets, priority is given to local feed crops in South Africa, such as maize, rice, wheat, etc., and then premix ingredients, additives, etc. are purchased as needed. Even if it is a reliable raw material, pay attention to the proportion of its use. For example, rapeseed meal cannot replace animal-derived protein, and wheat cannot be used to replace all energy raw materials.
2. Grain Absorption Rate for Chicken Feed Pellets
Some chicken farmers in the formulation of feed, often ignore the absorbability of feed ingredients. For instance, in protein-based feeds, the absorption rate of fish meal, soybean meal, rapeseed meal and cotton meal gradually decreases.
3. Chicken Feed Manufacturing Process Technology and Equipment
Feed size and nutrient requirements are different at different growth stages. The pellets produced by chicken feed pellet mill are adjustable in size to provide feed for chicks, laying hens, or broilers. This small feed production machine is very popular in chicken farms.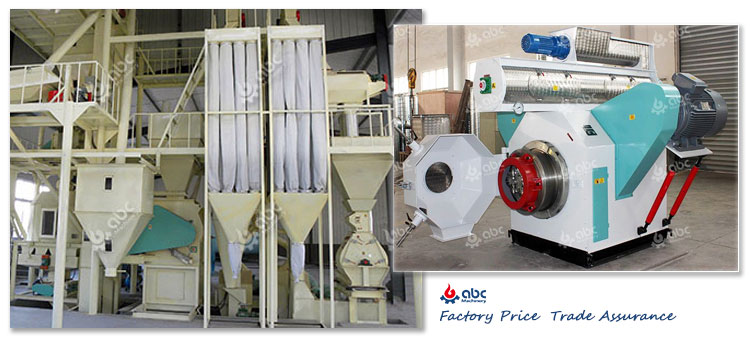 1-10 TPH Chicken Feed Pelletizing Equipment for Sale
| Model | Capacity (t/h) | Ring die inner diameter (mm) | Size (mm) |
| --- | --- | --- | --- |
| BPM25 | 1-2 | 250 | 1750× 650× 1750 |
| BPM32 | 2-5 | 320 | 1900× 1800× 1650 |
| BPM35 | 3-7 | 350 | 2100× 2000× 1850 |
In farming, buying animal feed pellets is an important expense. Therefore, for the chicken industry, making self-configured chicken feed can effectively reduce costs, improve the economic efficiency of farming, and significantly help farmers increase their income.
Main Chicken Feed Pellets Production Line
Moisture Regulation: The moisture content of feed ingredients should be around 10-12%. Dryers are used in the production of large and medium-sized commercial feeds.
Crushing: Pulverize grains or other large particles for better granulation effect and increase production efficiency.
Mixing: Mix all feed ingredients according to your feed formula.
Pelletizing: The prepared feed mixture is fed into the chicken feed pelleting machine and pressed into pellets.
Tip: Before purchasing equipment to produce chicken feed pellets, it is recommended that you think about your main feed formula. Therefore, the feed mill manufacturer can customize the pellet die to ensure the best pelletizing effect.
Video: Best Chicken Feed Making Machinery in South Africa
Buy high-quality chicken feed pellet making machine for making your own chicken feed pellet: hot sale chicken feed pellet mill offered animal feed production line manufacturer or supplier, guide on chicken feed pellet process and how to start feed pellet making business with limited cost in Nigeria, Kenya, Zambia, Ghana, South Africa, etc.
Whenever you need help starting an animal feed plant, or would like more details such as custom project plans, equipment listings and prices, production costs or construction details, please do not hesitate to contact us!