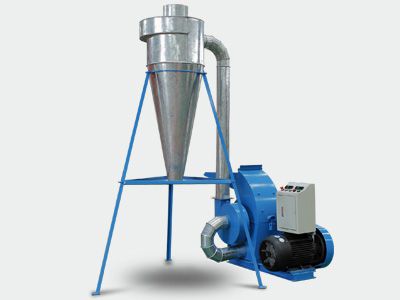 Small Feed Hammer Mill Application:
Hammer mill crusher is suitable for crushing raw materials with size less than 30~50mm (diameter), such as cotton stalk, corn stalk, wheat straw etc. It can also crush all kinds of feed raw materials like corn, grass, alfalfa, soybean/rapeseed oil meal, rice, etc. After the crushing process, the output size of the material can reach diameter 3-5mm, which is suitable for further animal feed pelletizing process.
Technical parameters
| Model | Power | Capacity | Weight(NW/GW) | Packing Size |
| --- | --- | --- | --- | --- |
| TFS420 | 7.5KW | 300-450kg/h | 285/310kg | 1200*1000*1220mm |
| TFS420 | 11KW | 450-600kg/h | 310/330kg | 1200*1000*1220mm |
| TFS500 | 11KW | 600-800kg/h | 420/440kg | 2000*900*1700mm |
| TFS500 | 15KW | 800-1000kg/h | 435/460kg | 2000*900*1700mm |
| FSP60 | 30KW | 1000-2000kg/h | 800/850kg | 2300*1100*1800 |
Feed Hammer Mill Operating Principle:
The hammer mill crusher consists of a sliding plate for raw material feeding in, crushing chamber and conveyor. There is a rotor in the crushing chamber, which is comprised of a disc and flexible hammers. It also has a sieve for filtration. During operation, processed materials flow into the crushing chamber via the sliding plate. With repeated impact and friction created by the hammer's high-speed rotation, the material is impacted and crushed to the desired size before being expelled through the sieve. While without passing the sieve, the remained materials will repeat the process until their size is crushed into small enough through sieve. Expelled materials are conveyed through a blower and pipe before being sent to the aggregation barrel. After being separated in the barrel, the crushed material is discharged from the bottom to the bag while the air is discharged from the top.
Small Feed Hammer Mill in feed pellet plant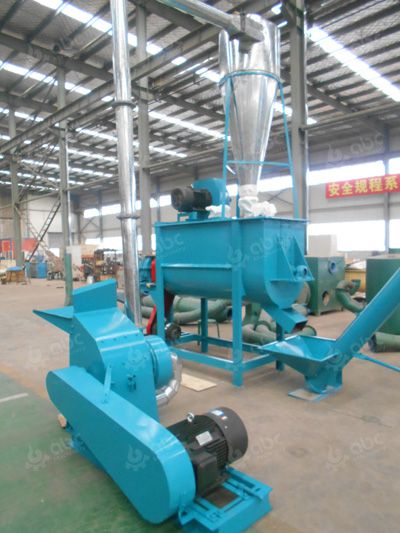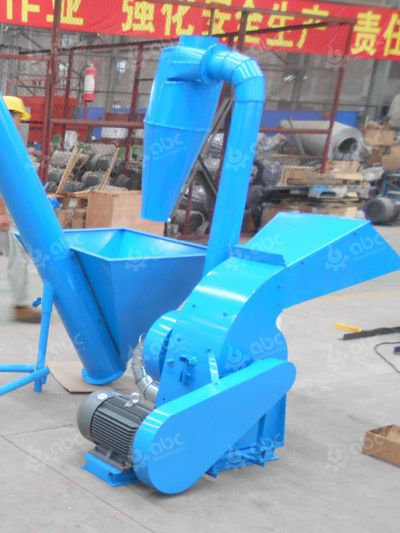 Equipment quality:
It adopts high-carbon alloy steel blades and a high-speed crushing system. It is characterized by stable performance, durability and efficiency.
Features:
It is multi-functional grinder. It also has a suction device to reduce dust emissions. It is characterized by a low operating temperature, reduced noise and efficient production.
Note:
1. Fineness is determined by the pore size of the sieve.
2. The crushing rotor, hammer and other high speed components must be firmly fixed. Pieces of metal, stones and other hard objects must be prevented from entering the machine to avoid damage and for safety reasons.
3. The hammer and other wearing parts should be regularly checked for wear and tear.
4. Raw material greater than 30 mm in diameter should be reduced in size before processing by this machine.