The expanded floating fish feed has a wide range of applicability, pond fish farming, rice-fish farming, fish farming, net box fish farming, factory fish farming, large surface finishing can use floating fish feed. Especially for the culture of small density of the mountain pond fish farming, paddy fish farming and large surface finishing, with floating fish feed than with other feeds have its superiority. Therefore, increasingly more aquaculture farmers see the development prospects of puffed floating fish feed, and have intended to invest in expanded fish feed pellet production business.Feel free to contact us for more examples of fish feed pellets plant, and we promise the best price!

150 KGPH Mini Fish Feed Pellet Producing Plant Ordered by Bolivian Customer
Recently, a customer from Bolivia recently purchased a 150 kg/h expanded fish feed pellet line for his floating fish feed pellet production business. But now he intends to build his own line to produce fish feed pellets for his ponds and surplus for sale.
Photos of 150 Kg Per Hour Fish Feed Production Line for Ponds Arrived in Bolivia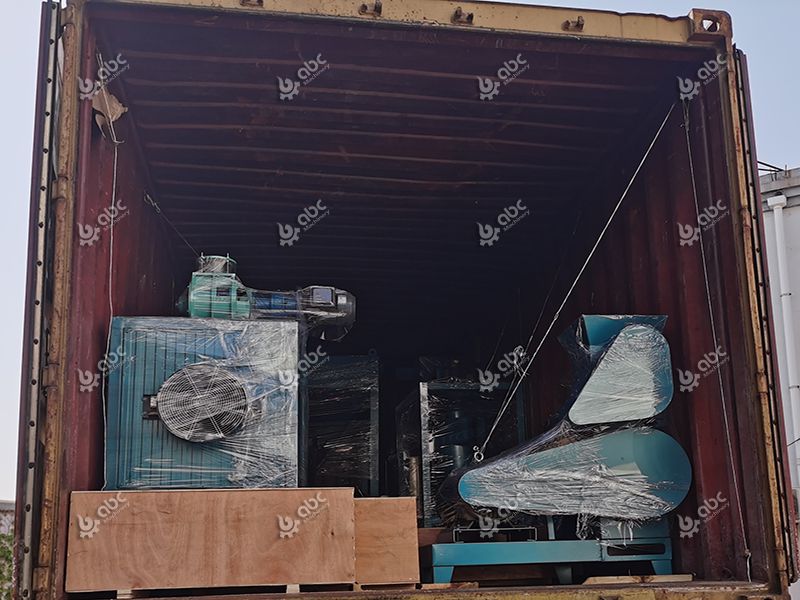 Floating Fish Feed Pellet Mill Deliver to Bolivia
Features of expanded floating fish feed
Feeding, management convenience
Aquatic expanded feed can be suspended in the water surface for a long time, feeding without a special feeding table, simply spot feeding is available.
Fish feeding floating in the water surface, direct observation of fish eating, timely adjustment of feeding, and timely understanding of fish growth and health status. Therefore, the use of aquatic puffed feed helps to carry out scientific feeding management, both to save a lot of time, but also to improve labor productivity.
Expanded floating fish feed is conducive to improving feed utilization
As a result of high temperature, high-pressure processing conditions, so that the starch in the feed cooked, fat and other more conducive to digestion and absorption, and destroy and soften the fiber structure and cell walls, destroy the cottonseed meal in the cotton phenol and soybean in the negative substances such as anti-trypsin, thereby improving the acceptability and digestibility of the feed.
In addition, due to the physical and chemical changes in the processing of expansion, expanded feed generally produces meals within 1%, which directly improves the effective use of feed. In general, the use of puffed floating feed for fish, compared with powder or other granular feed, can save 5 ~ 10%.
Expanded floating material on the impact of water quality
The use of expanded floating fish feed, can reduce the pollution of water quality. Expanded floating fish feed in the water for a long time will not dissolve, high-quality floating fish feed floating time can be up to about 12 hours, at least 6 hours of floating time, and baiting on easy to observe and control, reduce or avoid powder, remaining residual bait and other pollution of the water column, which is extremely beneficial to environmental protection and to the growth of fish.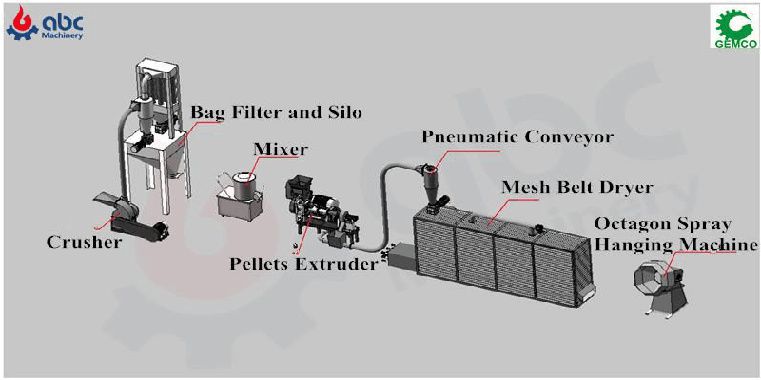 Feed Extruder Production Process
Video of Floating Fish Feed Production Line
According to different species, different growth and development stages, the production of its caliber and nutritional needs to adapt to the expansion of floating fish feed, can well meet the needs of conventional aquaculture and special aquaculture on its feed, not only to facilitate the breeding producers, but also to promote the development of production. If you have an idea to buy our expanded fish feed pellets making equipment, please contact ABC Machinery, we offer you the best service!