With the development of economy and the improvement of people's living standards, people's love for pets is getting higher and higher. As a necessity for keeping pets, the pet feed industry has also ushered in rapid development. Pet feed is a feed specially provided for pets. It has the advantages of comprehensive nutrition, high digestion and absorption rate, scientific formula, quality standards, convenient feeding and use, and prevention of certain diseases. In the context of the increasing importance of breeders to pets, the prosperity of the pet feed industry has become a general trend.
In order to meet the demand of growing pet food market, pet food is made by advanced pet food manufacturing equipment and the most scientific nutrition ratio to ensure easy digestion. Pet food extruding machine gives pet food novel shape, unique taste and color, which can totally meet all the requirements for pet food. Over years of development, ABC Machinery has achieved excellent results in extruding technology for pet food. The pet food extruder machine we provided is a good choice to start pet food making business. (Related Post: Pet Food Processing Technology >>)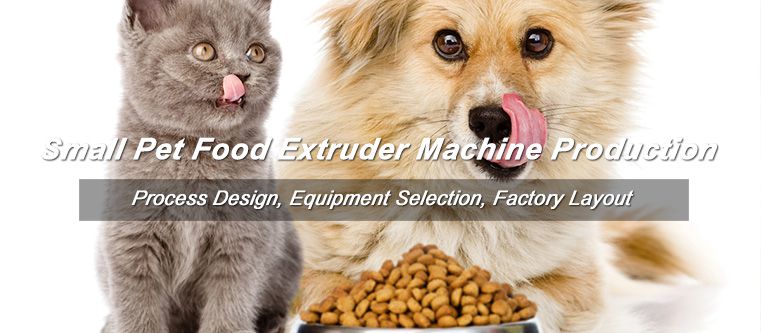 Pet Food for Dogs and cats
Our extruding technical advantages is fully reflected in the pet feed production line and floating fish feed production line that are easy to operate, has accurate parameter control to ensure the pet food and fish feed is completed in a specific temperature, pressure, humidity and time. Our pet food extruder machine is made of special materials, has reasonable structural design and quick self-cleaning performance to ensure the stability of the machinery and easy maintenance. If you are interested in knowing more about our feed extruder machine, please directly contact us to get more details, price list and machine parameters!

40kg/hr Pet Food Production Line to Armenia - Latest Order
Recently, we successfully exported to a 40KG/H pet food production line to Armenia. The customer is our new customer. he is self-employed business man. He brought this small pet food processing machine for self use and business purpose. His raw materials are corn, minced meat and vegetables. (Related News: Pig Feed Pellet Plant Exported to Nigeria >>)
The output of this pet feed line is 30-40kg/hr and it consists of mixing tank, pet feed extruder, dryer, spraying machine, sewing machine, electronic control cabinet, etc.. The final produced pet food has colorful shapes and tasty flavors that caters to all kinds of pet. The pet food production line consists of powder mixer, twin screw extruder, air feeder, dryer and coat coating unit.

Why You Should Choose us?
Provide various basic formulations;
Multiple shapes to choose from;
Responsible for personnel training;
Free pre-sale and after-sale consulting services, including equipment selection, installation, debugging and training;
Our engineers will provide free solutions for factory design and equipment configuration based on customer's factory size or the actual situation;
Pet Food Extruder Machine for Sales


Armenia Extruder Machine
| Model | Capacity | Main Power | Dimension | Weight |
| --- | --- | --- | --- | --- |
| Feed Extruder | 30~40KG/H | 5.5KW (Cutting power: 0.4kw; Feeding power: 0.4kw) | 1880*750*1580mm | 320kg |
Pet Food Manufacturing Process and Equipment

Pet Food Production Process
Mixing Machine for Mixing
Mixing process is to mix the raw materials corn flour, rice flour, soybean flour, meat flour, cereal flour, additives, etc. with a certain proportion of water to mix thoroughly.
Twin-screw Extruder for Extruding
In the high-temperature and high-pressure environment and the extrusion of the screw, the mold can be replaced by adjusting the different feeds in the production department of the process, and the specific particle size and shape.

Multi-layer Oven for Temperature Regulation
The oven is mostly an electric oven. The temperature is adjusted by the control cabinet between 0-200 degrees. The inside is a stainless steel double-layer net bag to reduce the moisture of feed particles, promote the aging rate, and increase the shelf life.
Oil Sprayer for Seasoning
The oil sprayer sprays oils, attractants, etc. The seasoning tube has octagonal tube, cylinder, lifting single drum and double drum seasoning line. According to the output and product nature, the grease is sprayed on the feed surface. Spray minced meat and spices to sprinkle evenly.
Cooing is to reduce the temperature of frying and feed, promote the solidification of fats and oils, reduce the temperature of particles, and facilitate packaging.
Vibrating Sieve for Selection
Vibrating sieve is used to sieve out excess dust and granules to ensure the quality and reuse of raw materials.
If needs packaging, the manual sealing machine and automatic packaging machine are available.
Pet Feed Extruding - Factory Test
Small pet food processing line is our company's best-selling product, and many customer like its practicality. If you are also interested in starting your own pet food manufacturing plant, we can provide a complete quotation and turnkey service according to the your specific requirements and investment budget. You only need a piece of land to build a shed to protect the production line from rain and heat, and we will do the rest! We can provide full service to save your time and energy! If you have needs, don't hesitate, please contact us!