Exhibition:

China Feed Online Conference 2018

Date: September 11th to 12th, 2018
Location:

Shanghai, China

During September 11th to 12th, 2018, China Feed Online Conference 2018 was held in Shanghai, China. Being the leading feed processing equipment manufacturer in China, ABC Machinery also participated in the Conference.
The Conference is a major platform that helps overseas feed manufacturers and suppliers access to Chinese feed market. It mainly deals with the following parts: Animal Feed, Fishmeal, Fish oil; Meat and Bone Meal (MBM), PBM, Feather meal (learn about feather meal extruding technology); Canola meal/Soybean meal, etc.

China Feed Online Conference invited experts, scholars, influential feed and feed machine industry suppliers to have discussion on the feed raw materials, feed products and feed processing machinery. ABC Machinery actively took part in the discussion and contributed his own production experience and expertise.
Seen from the fast developing speed of China and International feed industry, the high profit and high growth increase has gone into a new era, where both integration speed and the emerging of new feed buyers or importers are accelerated.
Knowing this, ABC Machinery has prepared himself with mature technology and quality feed processing equipment to offer clients with durable and cost-effective poultry feed machines, livestock feed machines, and fish feed machines.

About Fish Meal as a kind of Feed Raw Material
Fish meal is a kind of high protein feed material made from one or more kinds of fish, which is deoiled, dehydrated and crushed. The major fishmeal producers in the world are Peru, Chile, Japan, Denmark, the United States, Russia, Norway and so on. Peru and Chile account for about 70% of the total trade volume.

Nutritional Merits of Fish Meal as Feed Material
Effective energy value. Fish meal contains no hard-to-digest substances such as cellulose, high crude fat content. On the contrary, it has high effective energy value, therefore in feed production, using fish meal as one feed material is easy to prepare high-energy feed.
Vitamin. Fish meal is rich in B Vitamins, especially vitamin B12 and B2. It also contains fat-soluble vitamins such as vitamin A, D and vitamin E. All these vitamins are absolutely good to animal health.
Unknown growth factor. Fish meal contains unknown growth factors, which have not been purified into compounds, but it can stimulate animal growth and development.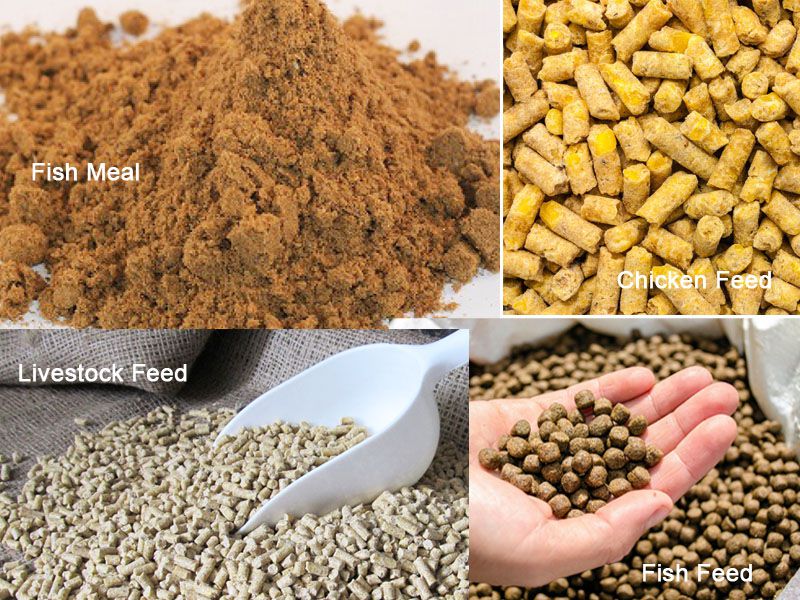 Main Uses of Fish Meal in Poultry and Livestock Feed Processing
Use in Poultry and Livestock feed: fish meal is used for the feed of chickens and pigs. These feedstuffs contain high quality protein, especially young piglets and chicks. Because young animals are in a period of vigorous growth, the demand for protein and the requirement of amino acids in protein are of large proportion; fish meal as animal protein, the proportion of amino acids and animal needs are the closest to what the animals need. (Read more about livestock feed processing technology and poultry feed processing technology.)
Feed for aquatic animals: fish meal is used as the main raw material for aquatic animals such as fish and shrimp. Fishmeal has the most similar proportion of amino acids which is needed by aquatic animals, adding fish meal can ensure faster growth of aquatic animals. (Read more about fish and shrimp feed processing technology.)
If you want to buy animal feed processing machinery, or want to know the price of these machines, please leave us a message below!