Poultry feed production has nowadays been the main theme of research since the feed production industries help to save on cost and realize maximum profits. The main concern of the poultry farmers in the production of quality feeds that can be digested efficiently by the animals. A complete poultry feed plant should be able to provide a hygienic, easily digestible feed and nutritionally balanced.


Feed Pellet Machinery for Poultry
Trustable poultry feed plant manufacturer
ABC Machinery, being one of the renowned poultry feed machinery manufacturer and supplier in China, has till now exported our poultry feed plants to various countries like Pakistan, Zambia, South Africa, Philippines, India, and so on. We provide the most cost effective poultry feed plant for our customer with the purpose to minimize the investment cost while ensure the production capacity. If you have any interests in our poultry feed manufacturing plant, please contact us for more information!

Usages of Poultry Feed Pellet Plant
Poultry feed plant has a number of applications which are dependent on a number of things. They are used as multi-purpose. They are suitable for making various types of poultry feeds and aquatic feeds. They also provide a wide range of diameters starting from 2-10mm depending on the type of animal. It is also easy to get the raw materials which include the corn, maize, wheat bran, soybeans etc. (Learn more about poultry feed pellets production process>>)
Machines involved in the poultry feed plant
ABC Machinery feed pellet processing equipment can be used to produce pig feed pellet production line, chicken feed production line, duck feed production line, cattle feed production line, etc. The feed pellet production line integrates the functions of crushing, mixing, lifting, pelleting, cooling, screening, etc., with automatic feeding, rapid feeding and smooth discharging. It is a medium-sized feed unit with low investment and quick results.
Grinding machine. The purpose of this machine is crushing the raw materials into recommended sizes for the different type of feed. The grinding machine has a number of features that help to perform the job effectively. It has a wider grinding surface to ensure fully grinding for both macro and micro grinding. It is also fitted with a movable operating door to give for convenient operations and maintenance. The machine is also fitted with a safety interlocking device to provide maximum safety.
Mixing machine. A good mixing machine will ensure uniformity in the mixing hence the good quality of the finished product. In this machine, the different raw materials are mixed with fat, additives and medicine to ensure quality feed. The mixing machine should not contain dead corners to prevent cross-contamination.
Pelleting machine. The poultry feed pelleting machine is used for producing the final pellet feed. Good pellets are termed as complete feed since they contain all the nutrients.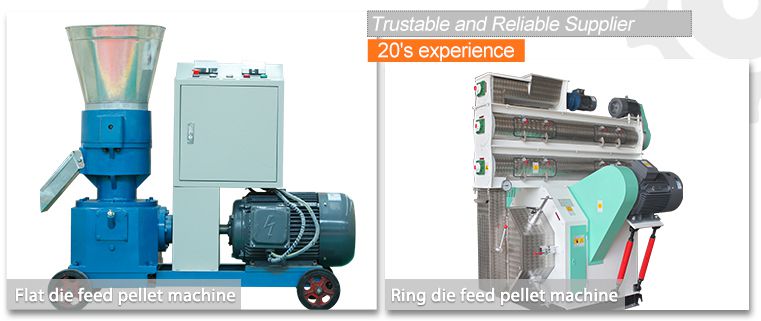 Full Price Feed Pellet Machine
Click the button below to get more details of the feed pellet equipment and the most suitable price!

Cooling machine. The already extruded feeds have a temperature of around 70-90 degrees Celsius. Therefore, cooling is required to bring down the temperature to around 5 degrees Celsius which is recommended for proper storage. Cooling prepares the pellets for storage and should be kept as clean as possible due to the discharge system. The cooling machine has key features to enable maximum output. It has an octagonal shape to ensure that there are no dead corners that would lead to contamination.
Cleaning machine. Cleaning is crucial in the poultry plant to ensure that the feed produced is safe for poultry production. The cleaning machine has a streamline design along the outlets to prevent deposition and avoid cross contamination. It also has a pressure screening system which is simple and convenient.
Conveying machine. This machine is important in the poultry plant since its majorly use for the transportation of the raw materials and the finished goods. It has a big inlet to avoid blockage by the raw material.
Packaging Machine. The already finished product needs to be packaged into bags depending on the requirement. The machine has a quality anti-shock device to ensure fast packaging, measurement accuracy and stable operations. The machine also contains independent suspension weighing sensors which help in accurate weighing.
Poultry feed plant
is of great importance since the produce feed that is valuable and easily digestible by animals hence providing a faster growth. Harmful additives should not be used to prepare poultry feeds.
Complete Poultry Feed Pellet Production Line Working Video
ABC Machinery adheres to the work style of seeking truth and being pragmatic, serving customers at home and abroad with excellent products and reasonable prices, and creating value for customers. If you are interested in our equipment, please do not hesitate to contact us!