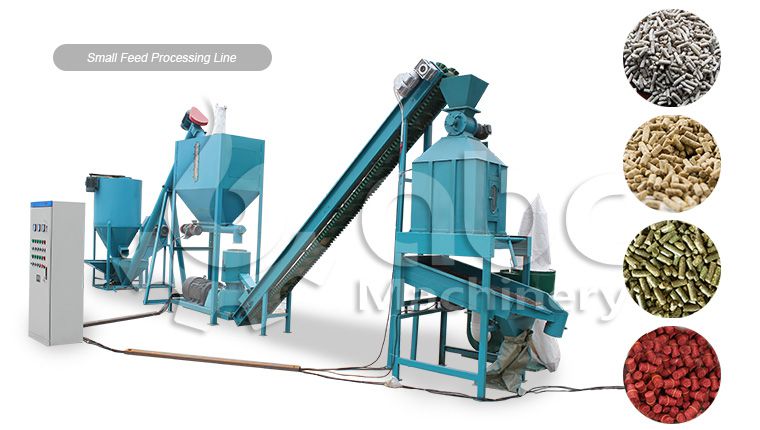 600kg/h ~ 1000kg/h Animal Feed Pellet Making Machine Set
If you are looking for Animal Feed Pellet Machine for your own use or commercial uses and wan to know which type of feed pellet mill fit your animal most, here we can offer what you want.
ABC Machinery has been specializing in feed pellet mill machine for at least two decades, we not only can offer the single feed pellet machine, but also provide tailor-made turnkey animal feed factory project for the animal feed pelletizing business. Don't hesitate to contact us, if you are interested to get a customized business plan about animal feed pellet production, detailed equipment list and price list!

Small Scale Animal Feed Pellet Production Process


Small Scale Poultry / Cattle Feed Pellet Mill (Process Desgin & Equipment Layout)
Animal feed pellet production process is generally similar, but different raw materials, animal and requirements may have a little difference in the detailed process. (Related Post: Poultry Feed Manufacturing Process >>)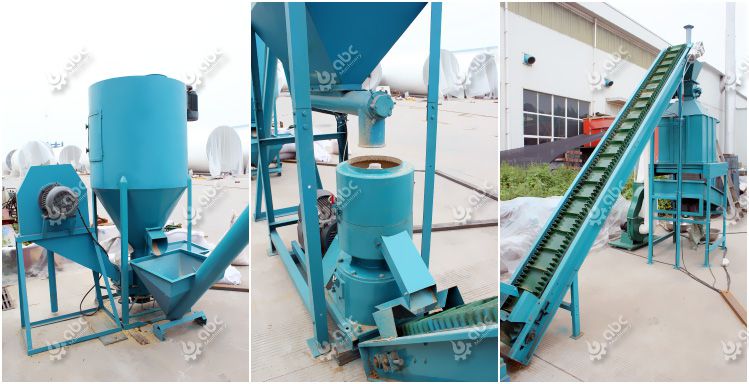 Crushing Machine, Pellet Machine, Pellets Cooling Machine


Equipment Details of Mini Animal Feed Pellet Plant
Pretreatment - Crushing & Mixing: Small Feed Crushing and Small Feed Mixer are generally used.
Processing - Pelletizing: The pre-treated materials are loaded into the animal feed pellet machine for pelletizing process. For the pelletizing process, choosing a reliable Feed Pellet Mill Manufacturers is of great importance.
Postprocessing - Cooling & Packaging: The pellet feed produced by pellet mill machine has a higher temperature, which requires cooling. Generally, the counter-current cooler should be installed under the granulator to save the transportation equipment of feed. The cooled feed pellet can be directly bagged for storage or fed to poultry and livestock. (Related Equipment: Pellet Cooler >>)
Small Animal Feed Pellet Machine Operating Video
Industrial Scale Complete Feed Production Production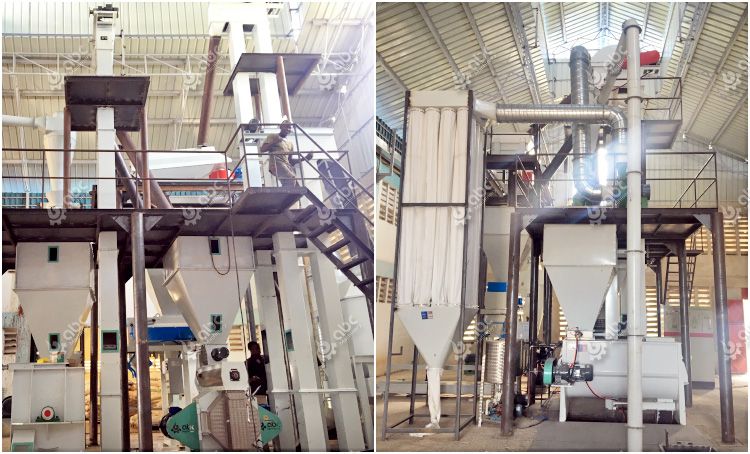 Large Scale Feed Pellet Machines for Industrial Atuomatic Feed Mill Plant
Pretreatment - Modulation & Steaming & Mixing
The pretreatment process is mainly the process of modulating the prepared powder material. In this process, the material is firstly modulated by the modulator, and then the original material is softened by the steam supply system (mainly including the steam boiler, pipes and their accessories). In order to increase the palatability of the feed, in this process can also be added to the appropriate oil additives (general molasses additives). The added materials are then mixed evenly to prepare for the next step of pelletizing. (Related Equipment: Small Feed Mixer >>)
Feed Pellets Making Process: Ring die type feed pellet machines are generally used in large scale feed plant.
Pellets Cooling & Bagging Process

If you still have questions about animal feed pellet machine and don't know which one fit you most, please contact our professional engineers and sales for more detailed information. We are always here for your needs.
Animal Feed Pellet Machine Models
In today's market, feed processing machine for pellets generally can be divided into the following two types according to the structural characteristics of forming parts, flat die feed pellet mil and ring die feed pellet mill. Both of these two type animal feed pellet mill can make feeds for animals, such as chicken, cattle, pig, sheep, goat, goose, etc from raw materials like sorghum, maize, soya, rice, wheat, and more. So, how to choose the right animal feed pellet mill based on your animal and actual demands? Here are some guidance you may need when buying the feed pellet mill. (You may also like: Cost of Poultry Feed Mill in Nigeria >>)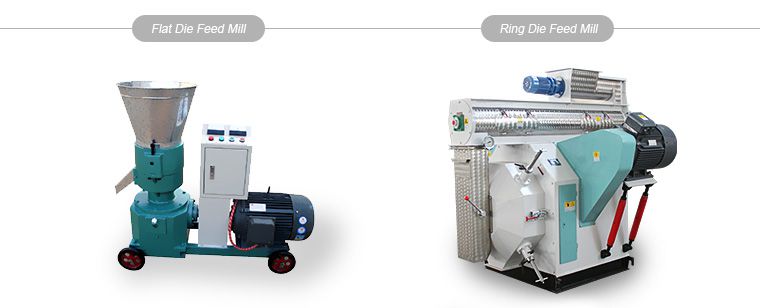 Flat Die Pellet Machine (left), Ring Die Pellet Machine (right)
Flat Die Feed Pellet Machine
Ring Die Feed Pellet Machine

Capacity: 60~1100kg/h
Power: Motor, Diesel, Gasoline and PTO
User: home use, small scale farms, small scale feed pellet production line
Features: Low cost, convenient operation, less maintenance, high yields.

Capacity: 1.0~15ton/h
Power: Electricity
User: Medium and large size animal feed mill plant
Features: A variety of aperture ring die for selection, long service life, smooth granulation, high quality, large yield

About Price: Since we have different animal feed pellet machines that have different capacity and structure. For more detailed price list and equipment parameters, please contact us directly.
Advantages of Pelleted Feed for Animals

Making Pelleted Feed for Cattle & Livestock Animals
Feed Pellets Improve Nutrient Utilization
In the granulation process, water, temperature and pressure is combined to improve the nutrient utilization. The pelletizing process destroys the plant's cell wall, thereby increasing the digestibility of the feed. In the process of granulation, carbohydrate will undergo partial cracking, which will cause starch gelatinization so as to improve the utilization rate of feed energy. Pelletizing can destroy some toxic and harmful factors in the feed and improve the effectiveness of nutrients in the feed.
Avoids Animal Being Picky about Food
Feeding the animals (livestock, poultry) with feed pellets can avoid the animal selecting the gains or food. The feed pellets contains a variety of nutrients, which ensures daily supply of feed at full price.
Reduces Nutrient Consumption of Animal Feeding Activities
The feeding speed of livestock and poultry to pelleted feed is often higher than that of powder feed, and the feeding time is only one third of that of powder feed.
Convenient Feeding and Reduction of Waste
The feeding of pelleted feed is convenient and saves labors, can can reduce the feed waste in the animal feeding. Due to the unreasonable feeding trough, there often has waste, the pelleted feed can reduce 8~10% of feed waste.
Better for Transportation and Economic
Animal feed pellet is generally in small size. The volume of common pellet feed will reduce about 1/2-2/3 of the power feed of the same weight and the bulk density increased by 40%-100%. In addition, pelleted feed is easy to store, pack and transport. Pelleted feed will save the bin capacity and will not produce automatic classification. And it also plays an important role in maintaining the uniformity of trace components in the feed. It is also not easy to damp, than the same weight of powder volume reduced by 1/2-2/3, bulk density increased by 40%-100%, easy to store, pack and transport.At the same time can save bin capacity, will not produce automatic classification, especially to maintain the uniformity of trace components in the feed has an important role. It is also not easy to damp, Not easy to damp, so it will helpful for the mechanized feeding.
Improving Environmental Hygiene
Pelleted feed is not easy to fly and reduces natural loss, which can improve environmental hygiene.


Animal feed pellet has increasing importance to reduce the feed cost and improve the animal growth quality. Therefore, the animal feed pellet machine gains more and more popularity among farms of poultry, sheep, cow, etc. For the animal pellet machine price, please contact us immediately.