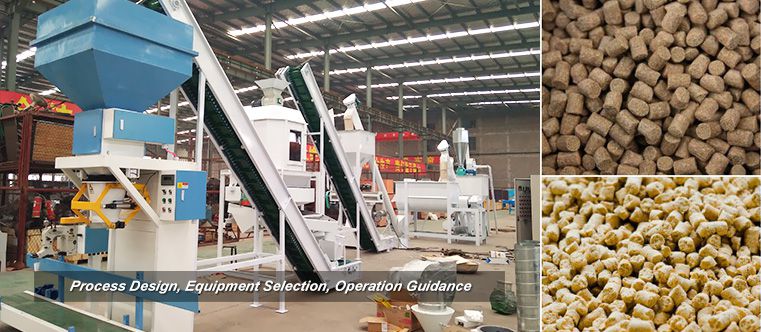 Start Your Own Animal Feed Pellet Production Business
Do you want to startup business for animal feed pellet production line or set up small feed pellet mill for your own poultry, cattle, sheep, pig, goose, etc.? Are you still bothered that you don't have related experiences in animal feed pellet processing, or don't have enough money for it?
ABC Machinery, expert in animal feed pelletizing equipment, can help you on every thing about animal feed pellet making. We not only have high quality and efficient Animal Feed Processing Equipment, but also have a professional and experienced team that focuses on animal feed processing for years. Any needs, do not hesitate to contact us!
Mini Feed Pellet Mill - How to Setup it? What is the Cost?
Mini Feed Pellet Mill Configuration
The length of the whole production line is about 25 meters in a row. According to the actual situation of the factory, it can be arranged in a straight line, "L" line and "U" type. The height of the equipment is about 5 meters.
Mini Feed Pellet Mill Application
It is suitable for farms of cattle, sheep, pig, poultry and other animals and small and medium-size feed pellet mill factory and so on.
Min Feed Pellet Mill Use Requirements
The compound feed should be made according to the scientific formula of a variety of different sources of feed, a certain proportion of uniform mixing, and the specified process of production of feed to meet the nutrition demand of animal's different growth stage, different physiology demand, different production USES. (Related Post: How to Make Feed Pellets at Home >>)
Mini Feed Pellet Mill Cost
The total cost a complete mini feed pellet production line varies from the detailed equipment configuration and specific capacity. Please inform us your expected capacity, raw materials and final use, so we can offer the customized plan and cost for your reference. (Related Post: Poultry Feed Manufacturing Plant Cost >>)

Latest Mini Feed Pellet Plant Projects Setup by ABC Machinery
Mini Feed Pellet Mill Production Process and Required Machine


Complete Poultry / Cattle Feed Production Process
Crushing is one of the important processes in compound feed processing. The quality of crushing directly affects the quality of compound feed products and the quality of subsequent processes. The commonly used grain crushers are self-priming crushers, hammer crushers and water drop crushers.
Mixing is under the action of external forces and various feed components are mixed with each other, so that it is in any volume of the various components of the particle evenly distributed process. Common mixer: vertical mixer, horizontal screw belt mixer, horizontal blade mixer.
The material enters the pelletizing stage after the initial cleaning, crushing and mixing. In the mini or small scale pellet mill, flat die pellet machine is the core equipment.
The temperature of pellet pressed by pellet mill machine is 75-95℃, and the moisture content is 13-15%. The pellet cannot be packaged immediately because of its high temperature after ripening, so a cooler is needed to cool and dry it quickly. Coolers are available in vertical, horizontal and countercurrent types. Commonly used are counter-current cooler and simple cooler (air dryer).

Mini Feed Pellet Mill Production Video
Mini Feed Pellet Mill Features

Equipment Display of Mini Feed Pellet Mill Plant
The mini feed pellet mill, with advanced design, simple structure, integrates crushing, mixing, conveying and pelletizing functions. It takes up small areas and has low noise and features wide applicability.
Powdery feed and grass powder can be granulated without (or a little) liquid addition. Therefore, the water content of pellet feed is basically the water content of the material before granulation, which is more conducive to storage.
The pellets made by this machine has the advantages of high hardness, smooth surface and sufficient internal curing degree, which can improve the digestion and absorption of nutrients and kill common pathogenic microorganisms and parasites.
The machine is equipped with more than 2.5mm--12 kinds of aperture moulds, which are suitable for granulating different materials to achieve the best effect.
Adapt to different materials, ensure the pelletizing effect. Corn bran and soybean meal and corn straw, peanut, straw, clovers and other crude fiber raw materials in single or different proportions can be formed in one time. In the same kind of pelleting equipment, the roller part is the center part of the whole equipment, and it is made of high-quality alloy steel to prolong the roller life.
Statistics of National Feed Industry Output Value in 2019

| Item | Product value (100 million) | Year on year growth | Operating revenue (100 million) | Year on year growth |
| --- | --- | --- | --- | --- |
| Feed Industry | 8872 | 5.70% | 8689 | 6.00% |
| Feed | 7869 | 5.80% | 7753 | 6.20% |
| Feed Additive | 944 | 4.90% | 875 | 5.30% |
| Feed Machinery | 59 | 1.50% | 61 | 1.10% |